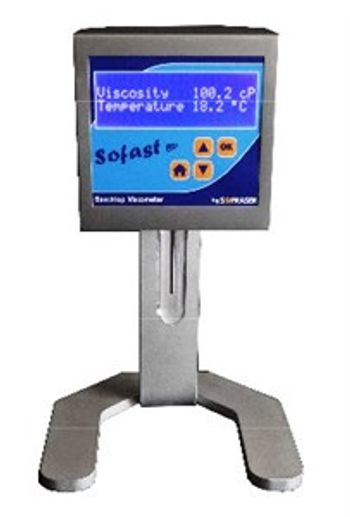 Placed near the process or in the lab, Sofraser's new Sofast BV completes - in less than sixty seconds - the viscosity measurement chain, allowing incredible time savings. Designed with vibrating technology at resonance frequency, the highly sensitive Sofast BV provides timely and reliable data. In addition, its sturdy and stable skid isolates the measurement from external vibrations.

The Sofast BV offers useful functionalities: up to two, pre-set viscosity calibration ranges (0.1-100 mPa.s and 1–1 000mPa.s), three volume configurations (2ml, 30ml, and 100+ ml), and sample measurements up to 50°C (122°F). For even more user versatility, accessories such as the lab jack, a "Check Temp" temperature probe, standard mineral oils, a USB communication cable, and intuitive data acquisition software are available.

The new Sofast is the ONLY benchtop viscometer available in today's market using vibration technology at resonance frequency that works with both Newtonian and non-Newtonian products.

For Newtonian fluids, the Sofast BV is much easier to use and the viscosity measurement is
equivalent to traditional lab equipment. In the case of non-Newtonian products, the Sofast BV
boasts multiple advantages for rapid viscosity checks: wider sample size range, highly repeatable
measurements, and less intensive cleaning.