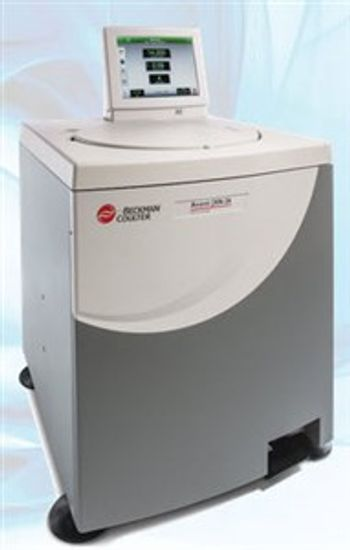 Beckman Coulter Life Sciences Brings Remote Control, Advanced Networking and Multiuser Management to Avanti High Performance Centrifuges

Combining high performance and application versatility, Avanti JXN-26 centrifuges from Beckman Coulter Life Sciences offer laboratories an intuitive interface and advanced data management features that expand functionality and flexibility to free user time in research and bioproduction. The instruments can be run from an Apple iOS or Android device using MobileFuge, the only mobile application available to run and manage laboratory centrifuges.

Researchers and facilities managers can leverage the instrument's data management, user tracking, networking and remote capabilities for ease-of-use and efficiency in biological sample preparation, and to meet quality control standards. Safety, logistics and quality challenges in multiuser labs and Good Manufacturing Practice (GMP) environments are met with software designed to improve daily operations across applications.
Network functions enable monitoring, diagnostic email, run-log archiving to network locations and printing to network printers. Fast, efficient service and online help is available, and users can choose from nine operating languages. Scientists can create secure individual profiles and login to MobileFuge to track and manage centrifuge runs remotely.
Avanti JXN-26 provides application versatility, with wide rotor compatibility and capacities to 6 L, speeds to 26,000 rpm and rcf up to 81,700 xg. The rotor library is comprised of 26 options, including fixed-angle and swinging-bucket models with lightweight designs that accommodate a variety of tubes, microplates and bottles. Continuous flow rotors are also supported. Automatic detection system prevents the centrifuge from being run at higher than rated speeds for installed rotor type.

"Researchers and bioproducers will now benefit from the same features customers love in our Optima Series, with high performance Avanti JXN-26 centrifuges," said Randy Pawlovich, centrifuge business unit director, Beckman Coulter Life Sciences. "The key is improving workflow, freeing up researchers to spend more time on their results, and enabling bioproduction facilities to meet strict quality control standards. The Windows-based software is easy to use, and makes it easy to set up the machine for the right speed, time and temperature across applications."

Beckman Coulter centrifuges also bring energy savings and environmental advantages. Recycled resin is incorporated in the outer paneling of the JXN-26, and each instrument contains as much as 7.5 lbs. of recycled PET bottles. A Friction Reduction System (FRS) lets the Avanti JXN-26 run more efficiently and quietly and increases energy efficiency by reducing the air in the chamber, which in turn reduces rotor friction and thus the amount of work required to accelerate and to maintain speed. It also lowers the amount of heat present in the chamber, reducing refrigeration system usage.
A lower work surface makes rotor handling easier and a foot pedal on the centrifuge is used for hands-free lid opening. Large footpads allow the unit to be used unanchored. Interface options let users customize the touchscreen with pictures, backgrounds, avatars and sounds. BioCertified* rotors, in conjunction with appropriate centrifuges and labware, are available for biosafety options. An optional pharmaceutical grade sterilizing filter system, located on the unit exterior for ease of access, also enhances safety.