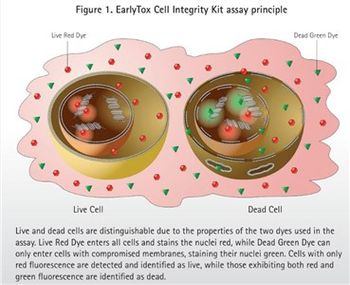 Molecular Devices® today announced the launch of the EarlyTox™ Cell Integrity Kit, a fast, simple, and reliable fluorescence-based assay for detecting changes in cell viability based on permeability of outer cell membranes (cell integrity). This kit provides an integrated assay solution when combined with hardware and software for the rapid quantification of cell viability.

The EarlyTox Cell Integrity Kit is based on two nuclear dyes: EarlyTox Live Red Dye is cell permeable and marks both live and dead cells, while EarlyTox Dead Green Dye is cell impermeable and stains only cells with damaged outer membranes. EarlyTox Live Red Dye is detected by using Cy5 channel (Ex622/Em645 wavelength); EarlyTox Dead Green Dye is detected by using FITC channel (Ex503/Em526nm) wavelength. The kit also contains a proprietary masking reagent to increase assay performance in a homogeneous format. Each kit enables a simple mix-and-read procedure whereby cells are incubated with reagents for 30 minutes and then transferred directly to the SpectraMax®MiniMax™ 300 or other imaging instruments for evaluation. The homogenous based assay eliminates time-consuming wash steps.

The EarlyTox Cell Integrity Kit is designed to seamlessly work with the SpectraMax MiniMax 300 on the SpectraMax i3 Multi-Mode Detection Platform. Preset protocols within SoftMax® Pro Software enable researchers to go from instrument setup to IC50 analysis quickly without the need to learn complicated software.

Martin Verhoef, Vice President of Marketing and Strategy at Molecular Devices, commented: "The EarlyTox Cell Integrity Kit, when combined with the SpectraMax MiniMax 300 and SoftMax Pro Software, shows our commitment to providing researchers with integrated assay solutions. In today's Life Sciences laboratories, researchers have less time to optimize assays and instruments. By providing integrated solutions to scientists around cellular viability, Molecular Devices is enabling scientists to spend more time on their assay results and increasing laboratory discovery and productivity."