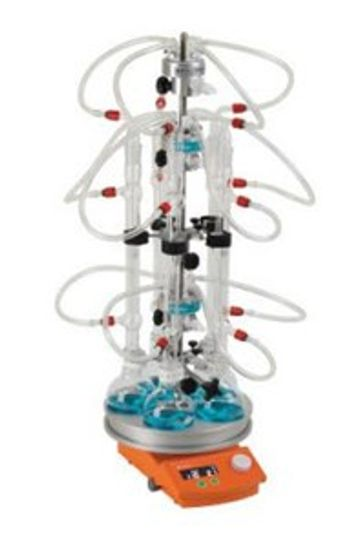 How many laboratories are short of space because of lots of individual set-ups – stirring hotplates,
water baths and heating mantles, each requiring their own electrics, gas and cooling water supply?

The innovative StarFish from Radleys, available through Heidolph, really is a space AND cost saver. Using existing laboratory stirring hotplates and glassware, its small footprint can be configured to perform complex procedures in parallel, including synthesis, extraction, concentration and distillation, really improving productivity.

Laboratory Manager, Alan Hague, from the School of Life Sciences at the University of Bradford has
invested in multiple StarFish systems for use in the Chemical and Forensic Sciences teaching labs.
"Bradford is an Eco-versity and each StarFish uses only one heat source, as opposed to five, reducing the electrical energy requirement and cost of operation. It's also very versatile, accommodating round bottom flasks from 5ml to 500ml on the same baseplate, at the same time and being capable of stirring simultaneously."