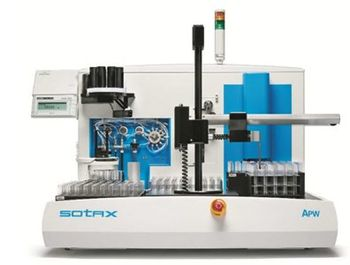 The SOTAX Group, a global leader in the development and manufacturing of dissolution testing, automated sample preparation and physical testing equipment for the pharmaceutical industry, is relaunching its Automated Sample Preparation (ASP) Platforms, the APW and TPW. Formerly branded as Zymark, the APW and TPW are well-established and now newly enhanced as part of the SOTAX ASP product line.

While the APW can process APIs, creams, gels and more for up to 300 samples with up to 10ml extraction volume using ultrasonic, the TPW can process up to 100 samples for Content, Blend and Assay Uniformity testing for 20 – 520 mL extraction volumes.

The APW and TPW now provide even greater sample preparation productivity while streamlining the
laboratory workflow for a broad variety of laboratories, products and applications. Typical applications range from Content and Blend Uniformity, Potency and Related Substance Assays for solid or liquid oral dosage forms for the pharmaceutical industry to tooth paste and lipstick for the consumer products industry. The TPW and APW provide a range of support from simple sample preparation to barcoded sample ID and preparation with on-line HPLC analysis with compliant data transfer to your validated CDS.

Recent initiatives to incorporate QbD (Quality by Design) and Continuous Process Improvement principles into the drug product lifecycle have increasingly raised laboratory productivity expectations. APW and TPW's powerful dEsign™ variables fully automate Analytical QbD to ensure robust, fit-for-purpose methods that deliver consistent results throughout the method lifecycle. Regardless of the industry or the degree of regulation, these platforms maximize efficiency and throughput for a vast array of applications for up to 300 samples.

With 100's of installations globally, processing hundreds of thousands of samples, SOTAX Automated Sample Preparation systems have proven to be reliable and compliant solutions for automating the sample preparation process to enhance a customer's laboratory efficiency and accelerate the workflow.