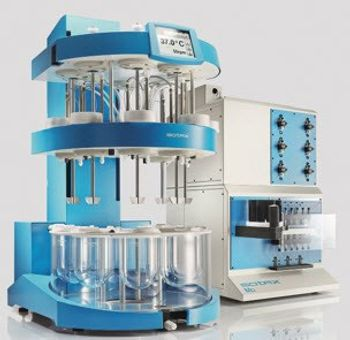 The SOTAX Group, a global leader in the development and manufacturing of dissolution testing, automated sample preparation and physical testing equipment for the pharmaceutical industry launches the 4th generation SOTAX AT MD fully-automated dissolution system.

Fully automated dissolution testing is defined as several unattended lots being run in succession with media preparation, gravimetric dispensing to the vessels and cleaning of the bath between lots. The cued dissolution methods can be different, or the user can run the same product back to back.

The SOTAX AT MD fully automated dissolution system consists of the AT dissolution bath and the MD workstation.

The innovative circular design of the AT dissolution bath opens up a new dimension of observation possibilities for R&D visualization and OOS troubleshooting with the new and unique CenterView™ design: this technology provides perfect visualization and video recording of release processes in each dissolution vessel. Located in the center of the dissolution bath, all video cameras can be adjusted and controlled for height and focal distance.

The MD is derived from the Zymark MultiDose Platform, a unit that is in active service globally. The upgraded MD unit is used for media preparation, sample withdrawal and cleaning. The new media tank now prepares media twice as fast and is easily removable for system cleaning. The MD's ability to work with a variety of surfactant concentrations has been improved along with a universal power supply for simple global implementation.

With hundreds of installations processing thousands of samples, SOTAX Fully Automated Dissolution systems have proven to be a reliable and compliant solution to enhance a customer's laboratory efficiency and accelerate the workflow.