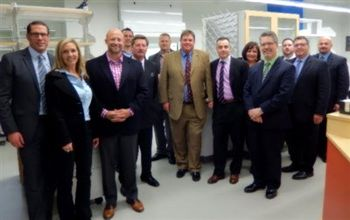 Laboratory Solutions of New England the premier New England dealer of Hamilton Scientific laboratory casework, workstations, fume hoods, and epoxy resin work surfaces for labs and research institutes, has relocated to the Boston Design Center. "New England's largest architectural and design resource center is an ideal environment for LSNE customers. Moving into a location that is both at the pinnacle of innovation with 87 product showrooms and has the ability to provide design solutions in one location was our main objective," said Jim Broderick, LSNE Vice President of Sales.

Having a showroom at the Boston Design Center allows LSNE to mockup a complete lab with laboratory furniture, fume hoods and equipment, without the need for an onsite lab visit, which can often be logistically challenging. A key benefit for LSNE customers is the company's state-of-the-art CAD, Revit and BIM software, which provides 3D renderings for an interactive and detailed design. Customers will be able to fully visualize and make changes to their project throughout the design process.

Recently, LSNE hosted an open house, which was well attended by executives from Hamilton Scientific and LSNE, as well as architects, engineers, designers, and general contractors. According to Jim Broderick, "This open house afforded us the opportunity to showcase Hamilton Scientific laboratory furniture and fume hoods – especially the new, next generation PANORAMA flexible steel casework platform and MISTRAL fume hood."

LSNE is the exclusive New England dealer for Hamilton Scientific, based in De Pere, Wisconsin. Founded in 1880, Hamilton Scientific is the global leader of laboratory furniture and fume hoods for the education, healthcare, and industrial laboratory markets.