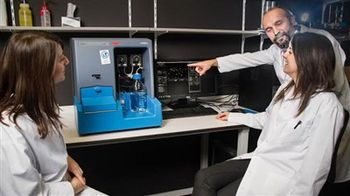 The Département Environnement et Agro-biotechnologies (EVA), of the Centre de Recherche Public - Gabriel Lippmann, Luxembourg, employs NanoSight Nanoparticle Tracking Analysis (NTA) method from Malvern Instruments to perform environmental analysis and toxicological testing of nanoparticles.

Researchers within the EVA department are using the technique of Nanoparticle Tracking Analysis (NTA) for the characterization of nanoparticles within their toxicological studies. A team led by toxicologist Dr. Arno Gutleb is working closely with colleagues in the Département Science et Analyse des Matériaux (SAM) both to characterize the particles that they produce and to investigate the environmental and toxicological impact of these and other nanomaterials.

The Centre de Recherche Public - Gabriel Lippmann is a leading European research establishment devoted to applied scientific research and technological development, as well as permanent technology transfer and high-level training. A key area of research involves the development, characterization and toxicological analysis of nanoparticles. For the past 18 months, Dr. Gutleb's team has used the NanoSight NS500, which is now part of Malvern Instruments' nanoparticle characterization portfolio, to support the generation and interpretation of environmental risk and toxicity data from nanoparticle testing. With applications ranging from the particle analysis of micelles in foodstuffs to the study of nanosized sediments in water, the NanoSight NS500 has become a highly valued analytical workhorse for a variety of high end research areas.

"The behavior of nanoparticles varies significantly depending on the medium in which they are found," explained Dr. Gutleb. "Such is the sensitivity of nanosized particles that even seemingly identical media, such as water taken from two different taps, can result in substantial variations in their behavior. With NTA we are able to sensitively monitor the behavior of a nanoparticle over time in a variety of different media. This makes it possible to accurately determine the level of environmental risk posed by nanoparticles, allowing us to produce and publish toxicity reports to increasingly higher standards of reliability."

NTA is a unique method of nanoparticle characterization that uses a combination of light scattering and particle visualization to monitor the movement, behavior and interaction of nanoparticles dispersed within a medium. Over the past year and a half, NTA has been routinely employed by the EVA department for a range of in vitro applications, allowing operators to perform fundamental examinations of nanoparticle behavior and interactions within a variety of real life media prior to and throughout toxicity testing. The technique provides information on a range of physical nanoparticle characteristics. Its use within EVA is truly varied and researchers perform nanoparticle toxicological testing for a broad range of emerging nanomaterials in the environment, medicine, consumables and geology sectors.