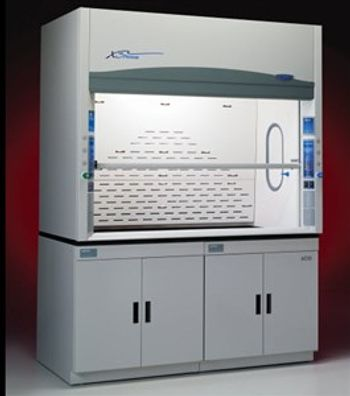 The Protector XStream Laboratory Hood from Labconco is a high performance fume hood that performs very well at low air volumes. It doesn't rely on restricted sash openings, airflow sensors and electronic control, mechanical components or additional fans. Instead, the Protector XStream uses patented features that work together to significantly reduce the concentrations of contaminants in areas behind the sash opening and near the user's breathing zone. An upper dilution air supply bathes the sash interior with clean air eliminating chemical fumes along the sash plane.
The ergonomic Eco-Foil air foil with Clean-Sweep™ openings reduces energy consumption from 7-10%. A rear downflow dual baffle system directs airflow in nonturbulent laminar flow air streams to the back of the hood to counteract the tendency for air to roll inside the hood. And the containment-enhancing sash handle sweeps airflow into the hood with minimal turbulence.
Operating the Protector XStream at OSHA-approved 60 fpm consumes only 690 CFM—a significant energy savings compared to operating a traditional hood at 80 or 100 fpm. Because the Protector XStream Laboratory Hood optimizes energy performance and provides innovation design, it contributes to LEED® credits for new construction as designated by the United States Green Building Council.