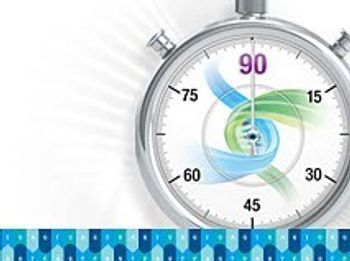 Solution Empowers Clinical Research Sequencing with Quick Workflow, Minimal Sample Input

Agilent Technologies Inc introduced the SureSelectQXT Reagent Kit, a revolutionary next-generation sequencing target enrichment solution that produces sample-to-sequencing-ready libraries in just seven hours with only 50 ng of input gDNA.

Designed to meet the exacting needs of clinical researchers for a fast, easy, same-day sample-to-sequencing workflow, SureSelectQXT kits are three times faster than existing transposase-based methods and require 30 percent less hands-on time. They are optimized for use with samples of limited availability and provide superior coverage of genomic targets for confident variant calling. Combined with the fastest sequencers on the market, these kits make sample-to-data in 24 to 36 hours a reality.

"We are excited to provide this fast, powerful new target enrichment solution to the clinical research community," said Victor Fung, senior director of global marketing for Agilent's Diagnostics and Genomics Division. "With SureSelectQXT Reagent kits, researchers can quickly analyze exomes or target-specific genes with superior variant calling accuracy, and go from sample to sequencing in the same day."

SureSelectQXT kits' unprecedented speed is achieved by coupling transposase-based library preparation with major advancements in hybridization chemistry, significantly decreasing hybridization time from 16 hours to 90 minutes while maintaining high performance. The kits' proven hybridization technology enables the sensitivity and specificity required for the complete and accurate variant analysis of exomes or custom genomic regions. The kits are complemented by an extensive portfolio of target enrichment solutions for library preparation, capture, automation, quality control and data analysis needs.

Agilent's SureSelect portfolio is the industry's leading target enrichment solution. With reagents that address needs from every step of the sequencing workflow, SureSelect enables a complete solution for researchers to quickly and easily analyze specific regions of the genome, transcriptome and methylome. As part of the complete solution, SureSelect is supported by SureDesign software that enables custom capability; Bravo automation platforms that enable reproducibility and high-throughput sample processing; and SureCall software that enables quick, easy, streamlined analysis of genomic regions of interest.