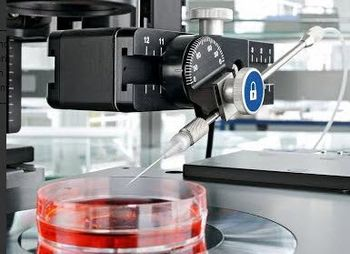 Eppendorf's new TransferMan 4r is an innovative micromanipulator that combines an intuitive user interface with outstanding precision for rapid and simple microinjection. The exceptionally direct transmission of movement in all directions gives a "real time feeling" and makes this latest instrument in Eppendorf's micromanipulator line the ideal platform for a broad range of applications, including microinjection and manipulation of suspension cells such as oocytes and blastocysts. The new DualSpeed™ joystick extends the precise and intuitive direct movement control with an additional dynamic speed mode for covering longer distances or speeding up sample processing.

The multifunctional TransferMan 4r simplifies individual workflows by offering four predefined application-specific user interfaces such as "cell transfer" and "DNA injection". Users also have the option of programming additional methods for their individual application needs.

The ergonomically designed control board and unique DualSpeed joystick mean the TransferMan 4r is tailored to providing excellent precision during cell handling and manipulation. It is extremely resistant to vibration and drift
during use, delivering exceptional direct movement control for risk- and stress-less working. In addition, the instrument has a programmable Z-axis limit to prevent accidental capillary breakage. Capillary and angle settings are operated single handedly for increased convenience.

Thanks to the flexible assembly and mounting concept, installation of the TransferMan 4r on all common microscopes is possible. Semi-automatic injections are enabled by combination with the electronic Eppendorf microinjectors. The newly introduced electronic coupling with the Eppendorf PiezoXpert® enables semi-automatic piezo-supported cell penetration.