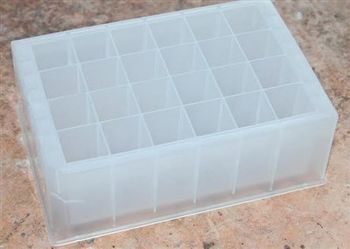 Precisely manufactured to SLAS/ANSI specifications - Porvair Sciences 24-well deep well plates permit users to simply undertake multiple, high volume (10ml / well) experiments in a single unit maximising both productivity and operational flexibility.

The 24-well plates are constructed of high grade, low extractable polypropylene, which imparts excellent temperature and chemical resistance making them the perfect tool for applications including serial dilution, mixing, reaction chemistry and cell culture growth. The wells are square with a conical base to optimise sample concentration and recovery.

The plate dimensions are precisely manufactured to SLAS/ANSI specifications making them compatible with automated liquid handling systems and other robotic sample processing equipment. To enable easy sampling access whilst maintaining sample integrity - Porvair high-volume deep well plates may be securely sealed with a Santaprene™ piercable seal. The plates are also easily stackable economising valuable space in low temperature storage (-80C).