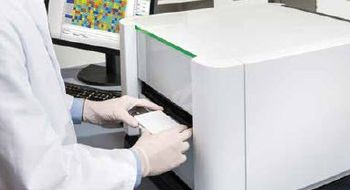 EnSight™ System Enhances Drug Discovery Process by Combining Labeled and Label-Free Detection with Well-Imaging Technology in Single Benchtop System

PerkinElmer, Inc., a global leader focused on the health and safety of people and the environment, today announced the launch of the new EnSight™ Multimode Plate Reader. The EnSight system is the first plate reader on the market to offer both labeled and label-free detection, together with well-imaging technology (which facilitates cell imaging), on a single benchtop system. This unique combination allows researchers to run their assays on the same platform -- generating more predictive results earlier in the drug discovery process.

Scientists can use the EnSight system for their research into cancer, cytotoxicity, biotherapeutics, epigenetics and primary/stem cells. The EnSight system enables researchers to generate more reliable readouts and obtain an expanded set of data from their samples. They can also use the EnSight system's variety of technology modes to perform confirmatory assays, helping to ensure that results are not biased to the detection technologies used for their sampling.

"With the EnSight system, we've applied PerkinElmer's industry-leading expertise in cell imaging to our multimode plate reader technology, and we've developed an innovative offering designed to enable scientists to obtain new insights from their research, which can accelerate the development of new therapeutics, " said Brian Kim, President, Life Sciences & Technology, PerkinElmer.

The EnSight system offers cell imaging capabilities that allow researchers to quickly visualize cells and generate per-cell data. When using primary/stem cells, this per-cell data is a more physiologically relevant model than the per-well data generated by traditional multimode detection technologies.

In addition to the unique combination of detection technologies it offers, the EnSight system also benefits from PerkinElmer's new Kaleido™ Data Acquisition and Analysis Software. This software's workflow-based interface enables researchers to quickly and easily set up and run assays, perform analysis tasks (such as cell counting), and generate graphs and reports.

Alongside cell imaging capabilities, the EnSight system also offers Alpha Technology (a bead-based proximity assay technology platform), as well as PerkinElmer's LANCE® and DELFIA® TRF assay platforms. The system also features Corning® Epic® Label-free Technology, which provides rich, physiologically relevant information about cellular and biochemical systems, without label interference.