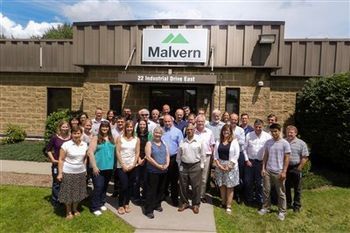 Malvern Instruments Ltd has today announced that it has completed the acquisition of MicroCal from GE Healthcare Life Sciences and has also purchased the Archimedes particle characterization system from Affinity Biosensors LLC (Santa Barbara, CA). Both of these developments extend Malvern's portfolio of analytical solutions for the rapidly advancing biopharmaceutical industry.
The agreement to purchase GE Healthcare Life Sciences' MicroCal business was announced on 4 June 2014 by Malvern's parent company Spectris plc, and completion follows regulatory approval of the transaction. MicroCal microcalorimeters are now part of the Malvern Instruments portfolio and are being sold and supported by Malvern Instruments with immediate effect. Users of MicroCal systems have been notified directly of any changes.
Malvern's purchase of the Archimedes product from Affinity Biosensors follows two years of highly successful collaborative working between the two companies. In 2012, Malvern entered into an exclusive distribution agreement with Affinity Biosensors to market and sell Affinity Biosensors' Archimedes particle characterization system in all geographies outside of North America, with a co-marketing agreement for North America itself. Malvern has now acquired the Archimedes product designs and IP and a license to the underlying MIT patent for the technology for relevant fields of use. With this complete, Archimedes becomes a fully Malvern owned product and continues to be supported by the Malvern teams worldwide.
"I am delighted to be announcing the completion of Malvern's acquisition of MicroCal from GE Healthcare Life Sciences and our purchase of the Archimedes system from Affinity Biosensors," said Malvern's Managing Director Paul Walker. "MicroCal microcalorimeters are an exciting and important new addition to Malvern's portfolio that will significantly extend our ability to serve customers working in pharmaceutical and biopharmaceutical discovery, development and formulation. I'd like to welcome all our new MicroCal colleagues around the world, and look forward to the rapid and productive integration of our businesses."
Paul Walker continued: "Affinity Biosensors' Archimedes system has brought the technique of Resonant Mass Measurement into our range, and its close fit within our biopharmaceutical offering has encouraged us to secure its place and future development within Malvern. As part of our analytical toolkit for the biopharmaceutical industry, Archimedes sits alongside Zetasizer and NanoSight Nanoparticle Tracking Analysis systems, delivering a range of complementary solutions for quantifying early aggregation in bioformulations."
Microcalorimetry is a tool that is used at almost every stage of the drug discovery, development and formulation process. MicroCal has more than 30 years' experience in this field, with established ranges of differential scanning calorimeters (DSC) and isothermal titration calorimeters (ITC) all designed to meet the quality and productivity needs of today's life science laboratories. These systems are an excellent fit with Malvern's existing portfolio of measurement solutions for the pharmaceutical and biopharmaceutical industries. Their ability to deliver information about drug binding and protein stability is complementary to Malvern's current products and to those in development.
Archimedes uses the technique of Resonant Mass Measurement to detect and count particles. It determines their mass and size with high resolution and accuracy in small sample volumes. A key area of application is the measurement of protein aggregation in biotherapeutic formulations, which provides critical information needed to speed development and improve drug safety and efficacy.