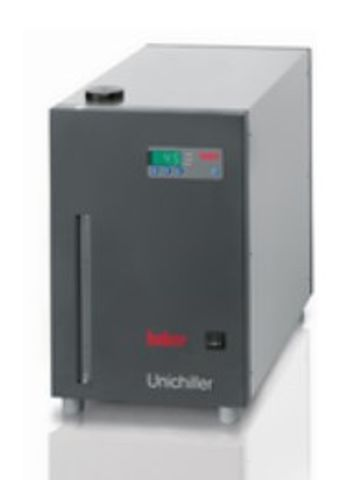 The new
Unichiller
003-MPC expands the product range of
Huber
Kältemaschinenbau by a compact and highly affordable circulating cooler.
With a list price of only 1,980 EUR, the Unichiller 003-MPC is one of the most affordable circulating
coolers on the market. Higher efficiencies and stable pressure and flow rates are achieved in comparison to tap water cooling. The circulating cooler further reduces water consumption and lowers the operating costs for many applications.
The investment pays itself off after a short time because of the water savings and the low purchase price. With a cooling capacity of 0.28 kW at 15 °C, the device is particularly suited for laboratory applications, e.g. for cooling vacuum pumps or rotary evaporators. As a standard, the circulating cooler works with natural refrigerants.