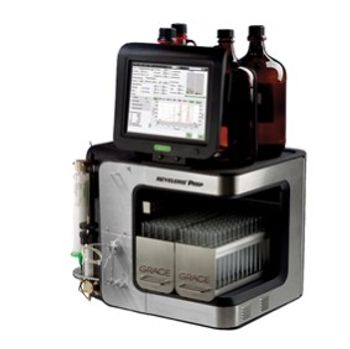 W. R. Grace & Co. announces today the release of the REVELERIS® Prep purification system, a dual-mode instrument that allows organic chemists, preparative chromatographers, and other researchers to perform both flash and preparative liquid chromatography (LC) using a single unit.
With the REVELERIS® Prep purification system, researchers can easily switch between flash and preparative chromatography modes with a simple touch of the screen, giving them complete control over the purification process and saving them time. The dual mode capability eliminates the need to change locations or departments when switching between flash and prep LC processes. The dual-mode instrument saves space in the laboratory and can reduce capital costs for equipment between 40 and 50 percent.
"The REVELERIS® Prep purification system allows researchers to maintain custody of samples throughout the entire purification process, eliminating the need for cumbersome and sometimes time-wasting handoffs between research teams or technicians," said Grace's Adam Grose, Vice President and General Manager of the company's Discovery Sciences unit.
The new system further enhances productivity by incorporating Grace's REVEALX™ detection technology. This patented technology triggers fraction collection from multiple detector signals, yielding higher purity compounds in less time.
The REVELERIS® Prep purification system continues a revolution in flash chromatography that Grace started six years ago with the debut of the REVELERIS® flash chromatography system, the first flash system to integrate ELS detection and UV, enabling chemists to detect components and impurities previously undetectable with traditional UV systems. The REVELERIS® flash chromatography system has earned several major industry awards and four U.S. patents.