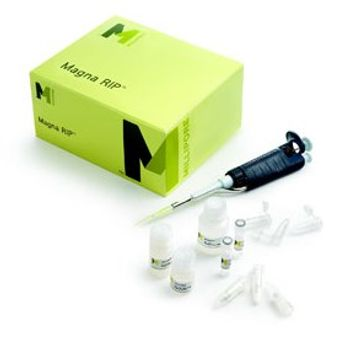 EMD Millipore, the Life Science division of Merck KGaA of Darmstadt, Germany, today introduced the Magna™ Nuclear RNA-binding Protein Immunoprecipitation (RIP) kits. These kits are specially designed to allow the discovery and analysis of both coding and non-coding chromatin-associated RNAs. Two versions of the kit are available, enabling users to analyze RNA both strongly and weakly associated with chromatin; one version uses cross-linked chromatin while the other uses native chromatin. Native RIP allows recovery of high affinity, more direct interactions while the cross-linked method is designed to capture higher molecular weight complexes and more readily trap weaker interacting RNAs.
Compared with other kits available to researchers, the Magna™ Nuclear RIP kits deliver much lower background signals, high signal-to-noise ratios and have been demonstrated to work in RNA-seq to enable NGS-based discovery and profiling. The kits offer flexible and scalable input requirements; RNA can be recovered from as few as 5,000 cells (cross-linked) or 100,000 cells (native).
"A significant amount of research is being invested in understanding the complex nature of how various chromatin-associated RNAs impact gene expression and epigenetic regulation," said Christophe Couturier, Senior Vice President and Head of the EMD Millipore Bioscience Business Area. "With the Magna™ Nuclear RIP kits, researchers now have complete, user-friendly kits to facilitate isolation and identification of regulatory RNAs such as short and long non-coding RNAs, snRNAs and enhancer RNAs."
These new kits add to the family of Magna™ RIP kits first introduced in 2009, which allowed for analysis of cytoplasmic and nuclear-associated RNA molecules. With the new Magna™ Nuclear RIP kits, researchers can target those proteins associated with RNA in a chromatin context.