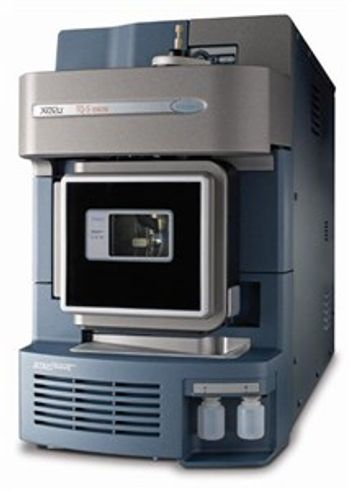 Waters Corporation introduced the Waters® Xevo® TQ-S micro, a new and compact benchtop tandem quadrupole mass spectrometer, at the 62nd conference of the American Society of Mass Spectrometry. The Waters Xevo TQ-S micro is designed to acquire sensitive, robust and dependable data at accelerated rates of acquisition for numerous analytes at varying concentrations. Waters intends to commence shipments of the Xevo TQ-S micro system in the third quarter.

"From a price to performance standpoint, the Xevo TQ-S micro is hard to beat. When you add it all up, Xevo TQ-S micro is the smallest, high-performance tandem quadrupole mass spectrometer on the market and is a great new choice for scientists working in food, environmental, pesticides, pharmaceutical bioanalysis and peptide screening," said Gary Harland, Director – MS Product Management, Waters Division.

Featuring new Xtended Dynamic RangeTM technology, the Xevo TQ-S micro mass spectrometer offers an impressive six orders of magnitude of linear dynamic range. This is important for quantifying compounds in samples where the concentrations of individual analytes differ greatly. Furthermore, the wider the operational dynamic range, the easier it is to transfer methods between instruments of differing sensitivities.

The Xevo TQ-S micro's new Xcelerated Ion TransferTM (XIT) electronics allow the instrument to acquire as many as 500 MRMs/sec without significantly reducing peak intensities, which no other tandem quadrupole instrument currently offers. This performance boost means that labs performing pesticide screening, drug, and peptide analyses can monitor for a wider range of analytes than ever before.

Xevo TQ-S micro exceeds expectations for a mass spectrometer of its compact size, offering significant enhancements in absolute sensitivity and signal-to-noise over entry-level tandem quadrupole instruments. Robustness testing has confirmed excellent reproducibility between many repeat injections over an extended time period, which is particularly important for laboratories that have built their reputation on fast turnaround times and accuracy.

Designed for use with Waters MassLynx® data management software, Xevo TQ-S micro is compatible with a variety of Waters inlet technologies including standard flow UltraPerformance LC® (ACQUITY® UPLC H-Class and I-Class), micro/nano flow Ultra Performance LC (ACQUITY UPLC® M-Class), and gas/liquid convergence chromatography (ACQUITY UPC2®), as well as gas chromatography via an Atmospheric Pressure GC interface.