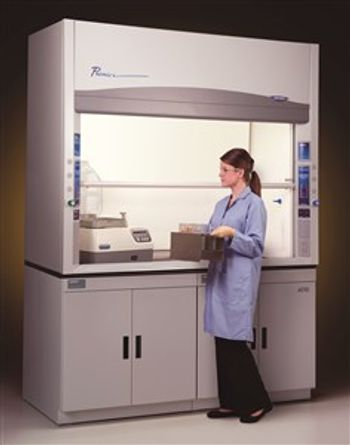 Protector Premier Laboratory Hoods incorporate a sleek interior with a molded one-piece fiberglass liner. This liner is made of specially-formulated, fiberglass-reinforced polyester which offers fire-resistance and easy clean up.
TheEco-Foil™ air foilwith Clean-Sweep™ airflow slots allows clean air to continuously flow through the air foil creating a constant, protective barrier of protection from contaminants.Cord-Keeper™ Slots on both the left and right side of the air foil keep product cords away from the work area. The automatic air by-pass system, pre-set fiberglass baffle and vertical-rising tempered safety glass sash with cable pulley also are standard features.
The Premier includes factory-wired light and blower switches. Factory-installed accessories are available, including one 115 volt, 20 amp electrical duplex receptacle and remotely-controlled service fixtures with easy access to plumbing from the front of the hood.
The Protector Premier Hoods have models for use with remote blowers or with built-in blowers. Exterior widths available are 48, 60, 72, and 96-inches with an internal depth of 24 inches. Testing confirms the Protector Premier Hood meets the SEFA-1* standard of a low velocity, high performance hood and may be operated as low as 60 fpm.