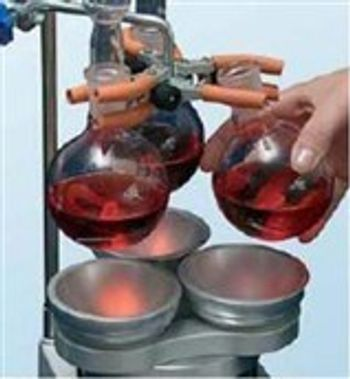 The DrySyn MULTI from Asynt converts any standard hotplate stirrer into a high performance reaction block accommodating 3 round-bottomed flasks* or up to 12 reactions in tubes or vials.
The DrySyn MULTI's combination of flexibility, productive performance and safety at a truly affordable price is particularly popular in R&D departments for parallel synthesis as well as in teaching and open-access laboratories, where a single compact reaction station can provide heating facilities for several users. Incorporating an ingenious three-way clamp makes it quick and easy to secure flasks in place using the DrySyn MULTI. In addition DrySyn MULTI's shallow well shape increases reaction visibility and minimises the possibility of glass failure.

Made of chemically resistant, anodized aluminium, DrySyn MULTI heating blocks offer excellent heating performance to over 300ºC and can heat a reaction flask faster than an oil bath and with less energy consumption. Providing excellent heating and stirring performance but without the inherent risks and mess of an oil bath, DrySyn MULTI heating blocks help lab scientists create a safer, cleaner and more efficient working environment. The DrySyn MULTI also offers a flexible, safe alternative to using heating mantles.