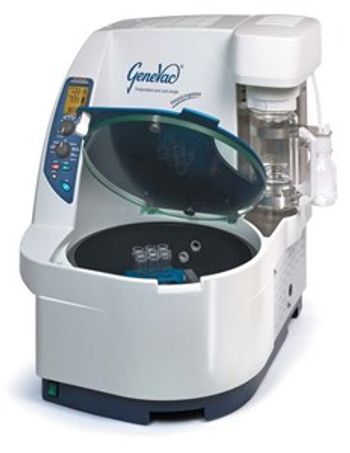 The EZ-2 ENVI from Genevac is designed for gentle evaporation of volatile environmental samples, such as pesticides, and is proven to give excellent recovery and reproducibility. The system is fully automated, can concentrate a number of samples at the same time and provides protection from cross contamination and bumping.

Over the last 25 years, to safeguard sample integrity during rapid and safe evaporation, Genevac has pioneered the development of a range of innovations including SampleGuard temperature control, the Dri-Pure anti-bumping system and most recently the unique SampleGenie technology. The ingenious patented design of SampleGenie enables the EZ-2 ENVI to productively concentrate environmental samples to less than 1ml without losing any volatile analytes.

Years of experience in solvent evaporation and sample purification have culminated in a smart sample evaporator that saves you time and delivers optimal performance and solvent recovery. Running an EZ-2 ENVI evaporator is as simple as 1, 2, 3. Just load your samples, select maximum safe temperature for samples, select solvent type and hit start. Autostop, when dry or concentrated, means the EZ-2 offers truly unattended operation.

Requiring no peripherals for operation the compact EZ-2 ENVI fits neatly onto a laboratory bench or into a fume hood. All key components on the robust and reliable system are user serviceable to ensure a low cost of ownership. The EZ-2 Envi also includes a suite of specialised stored methods to enhance productivity and reproducibility when preparing environmental samples for analysis.