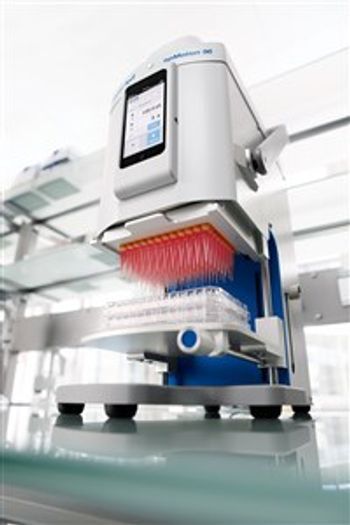 The new epMotion 96 from Eppendorf provides an ideal, time-saving solution for scientists undertaking the repetitive task of working with 96 or 384 format microplates or deep-well plates within life science research laboratories and pharmaceutical and industry laboratories. The epMotion 96 allows easy, rapid handling with high precision and accuracy compared to multi-channel manual pipettes and thanks to its ability to dispense into all 96 wells at the same time, makes it possible to simultaneously start or stop a biological assay for all wells in a plate. The system also makes the task more comfortable and efficient for laboratory workers by greatly reducing the risk of repetitive stress injury caused by manual pipetting.
The epMotion 96 has a large volume range between 0.5 and 300µL using only one head or system so there is no need to switch pipette heads or employ a second device to achieve all volumes. In addition, several electronic pipette features are available including multiaspirate, multidispense, pipette and mix and programming combinations, opening up a whole range of applications and methods to help users get the exact results they need.
Ease of use is ensured with the proven Eppendorf software concept and touch screen control. Its small footprint makes the epMotion 96 ideally suited for use in busy laboratories.
"The latest addition to the Eppendorf epMotion range allows pipetting tasks to be completed faster and more precisely," said Dr. Carsten Buhlmann, International Product Manager at Eppendorf. "With new epMotion 96, you can pipette entire 96-well plates at once, which makes a huge difference to productivity and efficiency."