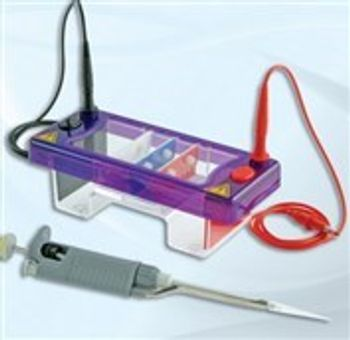 The MultiSUB™ range of horizontal gel electrophoresis units from Cleaver Scientific includes a comprehensive choice of optimised units for low- and high-throughput DNA and RNA applications.

MultiSUB™ horizontal gel electrophoresis units have been designed by scientists for scientists. With its advanced features, each unit provides an easy to use, versatile and flexible system that can evolve and adapt with the changing needs of today's laboratory researcher.

All five units in the Cleaver MultiSUB™ gel electrophoresis range deliver an unsurpassed combination of economy of gel and buffer volume, with gel size and sample number versatility. Gel size and sample number requirements can be exactly matched in each unit, with the option of additional gel tray sizes. This eliminates the need for multiple gel tanks for changes in gel size or application. All units feature removable UV transparent trays. For optimum value and versatility, systems are available with one, two or three tray options (dependent on model). Easy to use, leak proof 'plug and go' gel casting dams are included as standard to allow gels to be rapidly cast whilst the multiSUB unit is in use for gel running. With no indentations or casting gate grooves in the tray to interfere with sample progression, traditional tape casting can be used, should this be preferred. Although lid connectors are compatible with most major power supplies, adapters are available to provide complete compatibility.

A long-established technique, horizontal gel electrophoresis offers many advantages for nucleic acid separation, and remains today one of the mainstays of molecular biology.