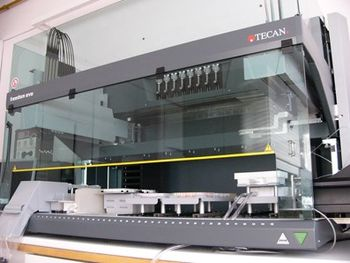 Tecan has launched the Freedom EVO® NGS workstation to simplify next-generation sequencing (NGS) sample preparation and PCR set-up. Offering user-friendly, walkaway automation of library preparation at the touch of a button, it eliminates the need for extensive manual processing.
NGS is the fastest growing application in genomics, yet many sample preparation protocols can be labor-intensive and time-consuming. The Freedom EVO NGS workstation has been designed to offer robust and reliable automation – including library preparation, quantification, qPCR set-up, normalization, pooling and capture – even for inexperienced users. This preconfigured system includes all the modules required for precise set-up of NGS sequencing libraries, reducing hands-on time and increasing productivity for NGS applications.
Developed in collaboration with the High-Throughput Sequencing Facility, University of North Carolina at Chapel Hill, the compact system offers one-touch protocol selection and step-by-step user instructions via Tecan's intuitive TouchTools™ graphical interface. It is supplied with ready-to-run protocols for popular NGS technologies – including Illumina-qualified* protocols for the TruSeq® Stranded mRNA Library Prep Kit and Nextera® Rapid Capture Exome Kit – helping you to hit the ground running and simplifying day-to-day activities.