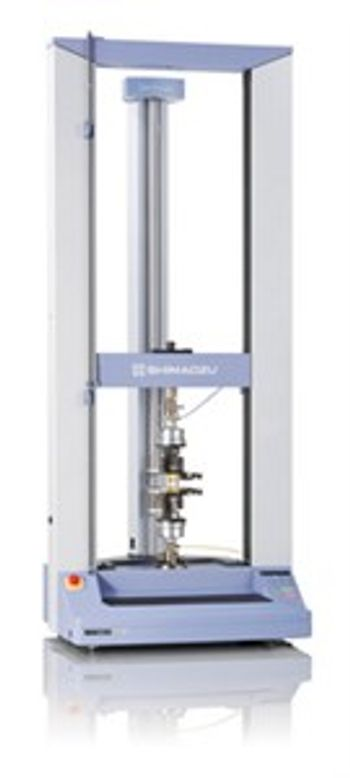 Highly accurate and seamlessly integrated DSES-1000 provides easy, precise displacement measurement
Shimadzu Scientific Instruments has released the DSES-1000 long-travel contact extensometer, an easy-to-use and highly precise tool for measuring displacement in rubber and other soft materials with considerable elongation. With 1000-mm maximum movement distance, the DSES-1000 can measure elongations up to 4,000 percent for a gauge length of 10 mm. In addition, it achieves +/- 0.2 percent relative measurement accuracy above 50-mm stroke and within +/- 100 mm below 50-mm stroke.
The DSES-1000 features a lateral quick clamp mechanism, making it easy for users to center the mounted position of the extensometer clamp with the sample. With this simple single operation, the upper and lower arms are able to independently track sample elongation. The floating arm feature ensures reliable tests can be performed without the arms disengaging from the samples.
Users can choose from a range of edges for the DSES-1000 that accommodate different size cylindrical and flat plate-shaped samples. Testing of gauge lengths up to 200 mm is also possible.
The DSES-1000 is compatible with Shimadzu's AG-X Plus, AGS-X and EZ-X series electromechanical universal testing machines and is fully integrated with Shimadzu's Trapezium X and Trapezium Lite X software. In addition, the extensometer is compliant with various rubber tensile testing standards and is capable of compliance with low elongation recovery rates.