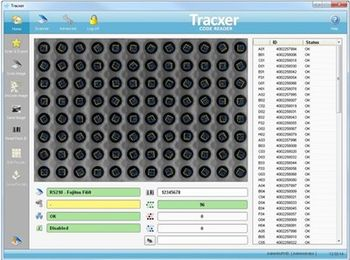 Micronic has announced a new version 2.2.6 of its Tracxer storage tube code reading software. Fully compatible with all Micronic tube scanners** the new user friendly software is easy to install, gives reliable code readings and can be smoothly integrated into any laboratory sample database.

All new features in version 2.2.6 are included as standard in the software at no extra cost together with free upgrades and technical support. The useful new features including ActiveX tool kit, improved single tube reading functionality and easy configuration of different storage rack formats were developed to further enhance the user experience and improve tube scanning performance.

The ActiveX toolkit included in the new Tracxer code reading software enables users to integrate the Tracxer code reading software easily into their own laboratory information management systems (LIMS). With the ActiveX toolkit, users are able to activate the scanning process of the Tracxer Code Reader with a function inside their sample management database program. The scanning process can be activated even when the Tracxer Code Reader is located somewhere else or the Tracxer Code Reader Software is installed at another computer.

The new Tracxer code reading software features a single tube reading option for 96 well format tubes. A single tube read can be started by clicking on the new icon within the general user interface. After clicking on the icon, the software reads the code of the single tube. The code is then displayed in the general user interface and can be easily copied and pasted into the sample management database of the user. Tracxer code reading software version 2.2.6 enables you to read a rack of tubes in less than 5 seconds and a single 2D coded tube in less than 2 seconds.

Other features introduced in version 2.2.6 include easier configuration of racks filled with tubes in 12, 24, 48, 96 and 384 SBS formats and single 96 well format tubes ; decoding features (distinguishes between NO CODE or NO TUBE) ; 1D barcode integration for rack identification and touch screen technology compatibility.

Tracxer code reading software is compatible with all Micronic 2D coded tubes (Data-Matrix and TraXis) and with most other brands of 2D Data-Matrix coded tubes.