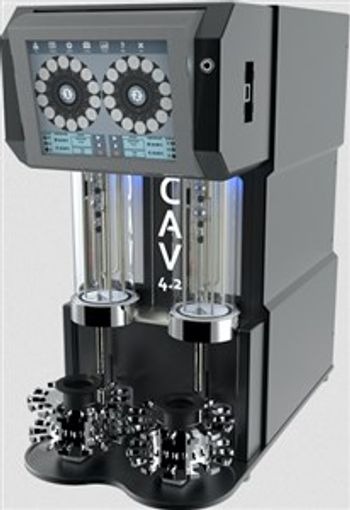 CANNON Instrument Company® announces the release of the automated CAV® 4.2 dual-bath kinematic viscometer for ASTM D445. The instrument will make its commercial debut at the Gulf Coast Conference (CANNON® booth #1002) in Galveston, Texas on October 14th and 15th. Medium to high throughput laboratories requiring D445 precision will find the new instrument combines CANNON quality and reliability with modern design and unique features to enhance productivity, reduce costs and improve data quality.
The fully self-contained benchtop instrument boasts a 35% smaller footprint than similar dual-bath D445 viscometers, conserving precious lab space. It provides simple, out-of-the-box installation and requires no external components. Professional installation, VISCPRO® data storage and management software, viscometer tubes, standards, and a high precision digital thermometer are included with each instrument.
An on-board computer and user-friendly touch-screen interface allow a single CAV 4.2 unit to be run without an external PC. For higher throughput labs, a single external PC can manage up to four CAV 4.2 instruments using the powerful VISCPRO software.
Multiple pre-defined and user-defined test methods can be run in the same sample tray to maximize flexibility and save valuable set up time. Status indicator bath lights provide a simple, easily viewed indication of operational status, ensuring worry-free operation.
Cost-saving features include a tube design that reduces solvent usage and disposal costs by more than 50%. Operators can complete replacement of CAV 4.2 viscometer tubes in a matter of minutes, eliminating the need to schedule related service calls. Single-point temperature calibration avoids tube recalibration costs and maximizes test flexibility. Automated vial washing and drying reduces vial consumption costs and replaces manual washing, saving time.
The CAV 4.2 operates at any temperature between 15 °C and 150 °C (with available options) and its dual independent baths allow simultaneous testing at two different temperatures. High throughput selective zone pre-heating heats individual samples to any temperature from ambient to 100 °C. Modular dual-bath design provides easy maintenance access and redundancy for uninterrupted testing. Two independent sample handlers ensure reliable, unattended processing of up to 24 tests per hour within the viscosity range of 0.5 mm2/s to 10,000 mm2/s.
Additional information about the CAV 4.2 dual-bath kinematic viscometer and the complete line of CANNON automated kinematic viscometers is available through CANNON Instrument Company.