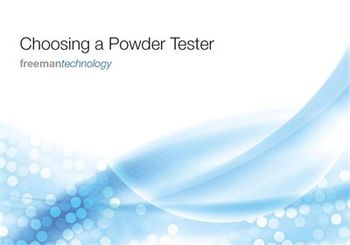 Freeman Technology has published 'Choosing a powder tester', previewed at this year's Powtech trade fair in Germany, the second in a series of educational guides on powder characterisation for industrial applications. Following on from the well received 'An Introduction to Powders' the new guide provides straightforward guidance on the range of techniques available for powder characterisation.

Understanding powder behaviour is essential to ensuring effective product and process performance. Powder testing techniques that allow users to understand and control both the product and manufacturing process therefore deliver substantial value. Authored by Tim Freeman, Managing Director of Freeman Technology, 'Choosing a powder tester' reviews the strengths and limitations of a number of different methods, including those listed in the US and European Pharmacopoeias for pharmaceutical powder testing.

The new guide addresses important questions facing powder processors looking to invest in powder testing instrumentation. These include: what powder testing techniques are available, what powder handlers should look for in a testing method and what features make powders more or less suitable for industrial applications? The guide also explores the relevance of the data generated by each technique and highlights the value of multifaceted testing to completely understand a powder's performance in process and final application.

With over a decade of experience working at the forefront of powder characterisation, Tim Freeman is well-placed to survey the value of powder testing techniques for industrial applications. 'Choosing a powder tester' is therefore one of the most comprehensive reviews of powder testers currently available in the public domain.