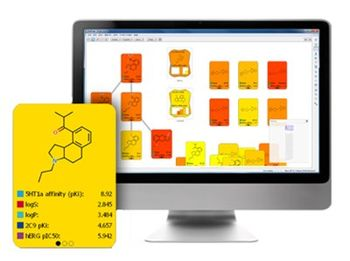 StarDrop 6.0 gives researchers the freedom to explore and organise complex project data in a flexible and intuitive way
Optibrium™, a developer of software for drug discovery, today announced the release of version 6.0 of its StarDrop™ software platform. This major new release introduces Card View™, an intuitive and highly flexible environment to view and interact with compound data in the context of discovery projects. Card View provides a unique and highly visual way to interpret data on compounds and their relationships, clearly highlighting the best chemistries and optimisation strategies for drug discovery. The software further extends StarDrop's capabilities to reduce the time and cost associated with delivering high quality drug candidates.
Card View presents compound structures and associated data on virtual cards that can be moved and organised with complete freedom, creating 'links' and 'stacks' to capture relationships and groupings. This enables researchers to explore data in a flexible and interactive way and organise compounds in a manner that mirrors their thought processes. The resulting cards and views can be conveniently annotated and copied to clearly share results and conclusions. Furthermore, Card View provides an ideal environment in which analyses, such as clustering or molecular matched pairs, can be applied to organise compounds and highlight patterns or features that guide further optimisation strategies.
Dr Matthew Segall, Optibrium's CEO, commented: "Card View is a ground-breaking approach to exploring and organising compound data. It breaks free from the restrictions of chemical spreadsheets and the traditional form views that often make it difficult to find optimal compounds and key structure-activity relationships. Feedback from customers has been overwhelmingly positive, as this novel environment brings researchers a new and interesting dimension in intuitive compound design."