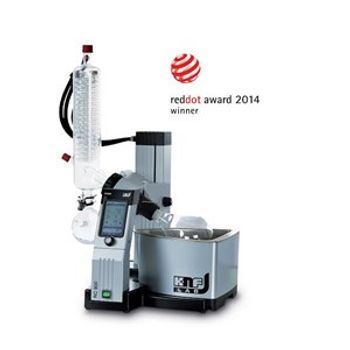 KNF Neuberger, Inc. is honored to announce its new RC 900 rotary evaporator has been selected for the prestigious Red Dot Award in the category of Product Design. Launched earlier this year, the most recent addition to the KNF product family was able to withstand fierce competition from a huge number of entrants; 4,815 applications from 53 countries were submitted for this year's award. The international jury tested, discussed and assessed the products during a three-day evaluation process at the Red Dot Design Museum, where functionality, ergonomics and user-friendliness formed the primary evaluation criteria.

In April of this year, KNF showcased the RC 900 rotary evaporator for the first time at Analytica, in Munich, then launched the product this September at ACS Fall, in San Francisco. The product comprises a host of innovative functions and qualities that make day-to-day laboratory work more convenient and enjoyable. These include an advanced wireless remote control system, which provides a central operating point for all functions. In addition, the device works almost silently, and routine tasks such as changing flasks are easy to perform. The linear shape of the device makes cleaning fast and easy, an important attribute in a lab. What is more, the design also improves safety, as all hoses are kept safely in the flask tower, and even the heating bath requires no cable connections.

RC 900 is a logical extension of the systems approach adopted by KNF, which is supported by KNF offices worldwide. The device works in connection with the company's SC 920 vacuum pump system and the C 900 condenser to create an economically-efficient and complete system.