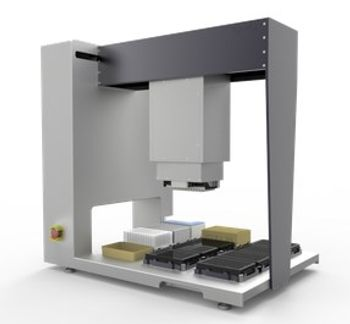 NanoScreen, LLC, a global industry leader in automated liquid handling products for the Life Sciences, announces the release of the ORION Liquid Handling Workstation.
ORION is a flexible, multi-format, high precision pipetting robot designed to meet the liquid handling needs of today's laboratories. It offers exceptional performance in a small package at a very compelling price point. Available to ship now, it will be shown in several configurations at the upcoming Society of Laboratory Automation and Screening conference, February 7-11, 2015 in Washington, DC.
"We wanted to design a high performance liquid handling workstation that is easily accessible, programmable, expandable and simple to integrate," said Imad Mansour, Chief Science Officer. "ORION is ideal for any plate-based application." With a 12-position deck and many dispense head options, ORION provides a powerful tool set for achieving superior results at the highest throughput. Its compact size allows it to be used in most laboratory fume hoods or on any standard laboratory bench top.
By leveraging the knowledge gained through its many years of serving the Life Sciences industry, NanoScreen strengthens its position with the launch of ORION. Importantly, the release of ORION strategically aligns NanoScreen for the long-term by creating competitive advantages. These advantages enhance the many and varied automation needs found throughout the drug discovery process.
"NanoScreen celebrates 11 years as an industry leader in laboratory automation. During this time we have helped transform the Life Sciences industry in a way that has allowed customers to achieve the results they desire in an impactful way", said Garey De Angelis, Chief Executive Officer. "Our latest product introduction shows our commitment to meaningful innovations tailored to the needs of our customers engaged in drug discovery."
ORION's human interface, Cosmo, is designed with the "walk up" user in mind, making the experience and use of ORION simple and straight forward. Constructing experimental methods is intuitive and made easy with Cosmo. Users do not have to drill down through menus and multiple dialog boxes in order to do the most basic of things, such as building methods and screening compounds. With ORION and Cosmo, NanoScreen achieves unparalleled simplicity for high throughput screening in the laboratory.