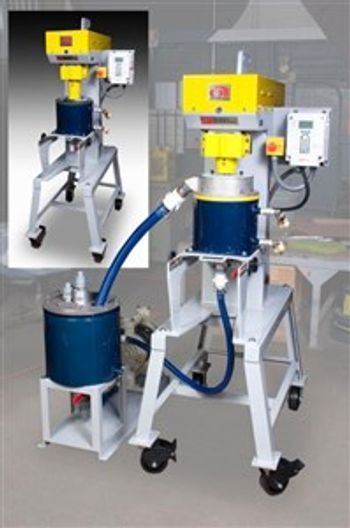 Union Process, Inc., known globally as a manufacturer of particle size reduction and dispersing equipment as well as related services for a broad range of research and industrial applications, has built a circulation conversion system for the SD1 laboratory Attritor. The circulation conversion system brings added flexibility and value to the SD1 Laboratory Attritor model line-up. The unique conversion system allows a customer to easily configure their SD1 Laboratory Batch
Attritor to operate as a Q Laboratory Circulation Attritor.
The SD1 was configured similar to a typical laboratory dry grinding Attritor including a 1.5 gallon grinding tank, a two-piece plastic cover, stainless steel shaft and arms, a 3 HP, TEFC inverter-duty motor with a variable frequency controller.
A conversion kit was included in the package that allows the customer to convert the SD1 to a Q Circulation Laboratory Mill. The kit includes a stainless steel, Halar-coated top discharge chamber, an impeller assembly, a Halar-coated Lub-R plastic grid plate, an axial seal, an agitator shaft and a sixth arm. For the circulation process, the system includes a 5-gallon premix/circulation tank and pumping assembly based on a 1" air operated diaphragm pump with plastic housing and Teflon diaphragms and balls.
Emery Li, Sales Manager of Union Process, noted, "Being able to convert a batch processing system easily into a circulation processing system is a great solution for customers who may require that flexibility. The cost to offer this to our customers is a fraction of what it would be to purchase two separate mills. This is indicative of the innovative thinking we employ to satisfy our customers."
The system included an optional, portable stand on casters so the customer could use the mill anywhere in the plant.
Union Process is the inventor and developer of Attritor technology and manufactures wet and dry grinding mills as well as horizontal bead mills.

Attritor is a registered trademark of Union Process, Inc.