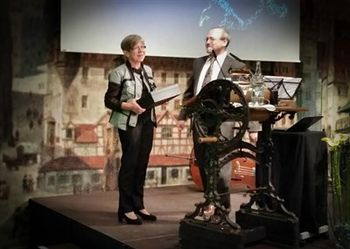 For Malvern Instruments Marketing Manager Mrs Renate Hessemann, this year's Powtech exhibition in Nürnberg, Germany, was her last as a member of the Powtech advisory committee on which she has served for almost 20 years. In recognition of this long commitment, she was presented with a special award at a meeting held on the eve of the show opening.
"It has been a great experience to serve on this Powtech committee and especially to be able to represent the exhibitors' perspectives as the show has developed and grown," said Mrs Hessemann. "Our discussions in meetings have always been very lively, but always constructive as we have reached consensus about the event and how it should evolve. As the only person on the committee working with analytical instrumentation I hope I have brought insight about our audiences and what they, and other instrument companies, expect and need when they invest both time and money in attending events such as Powtech."
Malvern, whose characterization techniques are used throughout the powder processing industries, has been an exhibitor since the show moved to the Nürnbergmesse in 1995, and is an active participant in the 3-yearly Partec Conference.
"I feel that I have learned just as much as I have contributed. Powtech is very much part of my professional history and I am sure that I will be at the 2016 event in some capacity," continued Mrs Hessemann. "I would like to thank all my colleagues on the advisory committee for the great teamwork and for presenting me with this award. I wish them every success as they take the event to the next stage."
Renate Hessemann is one of many Malvern experts whose scientific, technical and industry expertise means that they are in demand to serve on organizing committees, standards committees and industry bodies around the world.
"At Malvern we are always pleased to be able to give something back to the industries we serve," added Dr Mark Wingfield, General Manager for Malvern Instruments GmbH. "I'd like to add my congratulations to Renate for the contribution she has made as a member of the Powtech committee over such a long time."