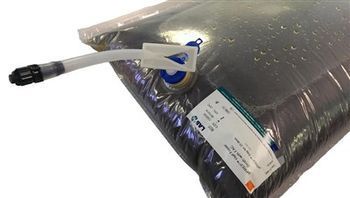 Microbiology specialists Lab M will showcase this year's latest product introductions at Medica 2014 (Düsseldorf, Germany, 12-15 November) with a focus on supporting laboratories in their efforts to maximise process efficiency and optimise workflow. Here the provision of essential tools, such as convenient or ready-prepared, high quality culture media, is fundamental and Lab M has recently introduced two brand new product lines, µPREP™ and Pinnacle™, to meet these needs. In addition, a new website provides easy access to details of the full range of Lab M microbiology products, with links to the company's social media channels and newsletter sign up.
The new µPREP™ range of ready-to-reconstitute media includes µPREP Half Fraser Broth ISO (+FAC) for the isolation of Listeria spp and µPREP Buffered Peptone Water (BPW) ISO used extensively as a pre-enrichment medium in Salmonella testing. µPREP complete media are supplied sterile in highly robust and easy to store bags, which simply require the addition of water. There is no mess and no autoclaving required, for immediately available media. A video demonstrating the speed and simplicity of µPREP media preparation is just one of the features than can now be found on Lab M's new website.
Pinnacle™ pre-poured plates bring together Lab M's expertise in developing and manufacturing microbiological culture media with the company's newly expanded plate pouring capabilities. Users benefit from high quality pre-poured plates, prepared by the manufacturer under a stringent quality management system in a GMP environment.
"We are very much looking forward to Medica 2014," said Lab M's Managing Director Ian Morris. "Over the past two years, Lab M has made substantial investments in new manufacturing facilities, growing our headcount and doubling our R&D capacity. As a result, we have been able to launch a number of exciting new product ranges including the large-scale manufacture of pre-poured plates."