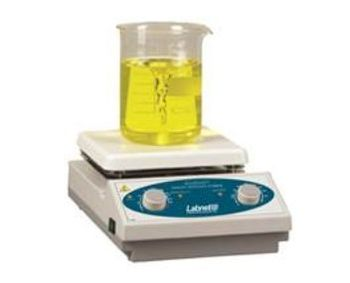 Life Science equipment provider, Labnet International has announced the launch of its latest addition to their constant temperature equipment line with the release of a new Analog Hotplate Stirrer.
The full range of products offers heat, stir, and a heat/stir combination model, making them ideal for the Science and Education or Research markets. The 7"x7" ceramic coated hot plate has a maximum hot temperature surface rating of 380°Cwith stirring speeds that can be precisely controlled between 100-1500rpm at maximum capacity of 5L. A large control panel includes two easily visible lamps, which indicate when the heating and stirring functions are activated as well as a third lamp to indicate when the unit is powered on. Safety features include an on/off switch conveniently located on the side of the unit, as well as an angled control panel, which extends away from the hot surface.
Hotplate stirrers are popular for both biology and chemistry applications, and can be purchased separately as hotplate, magnetic stirrer, or combined hotplate stirrer.