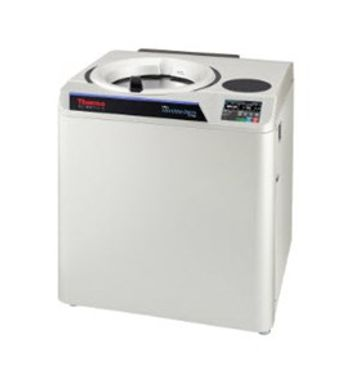 Next-generation instrument accommodates multiple users in a compact footprint

A new ultracentrifuge combines speed with safety and ergonomics, allowing researchers to easily protect samples while achieving reliable and consistent results.

The Thermo Scientific Sorvall WX+ ultracentrifuge features an intuitive color LCD touchscreen to keep programming simple and easy to navigate. Designed to accommodate a multiple-user environment, the Sorvall WX+ ultracentrifuge monitors run data with optional Log Manager software that recalls past operating parameters with up to 5,120 cases of recorded histories to assist with GMP/GLP compliance.

"In a shared laboratory setting, addressing the necessary application requirements for centrifugation can be difficult, especially with limited space," said Philip Hutcherson, global product manager, superspeed and ultraspeed centrifuges, Thermo Fisher Scientific. "Our ultracentrifuges deliver exceptional performance and versatility for processing applications in a compact design."

In addition, the Sorvall WX+ ultracentrifuge offers:
Up to 100,000 rpm performance in a small footprint to maximize space in the lab;
Lightweight and fatigue-resistant Thermo Scientific Fiberlite carbon fiber rotors;
Automatic tube balancing compensation, which accelerates sample preparation by allowing visual sample balancing up to 5 millimeters;
A self-locking rotor system that provides confidence that the rotor is automatically and securely locked;
Stat Light bar, which allows users to personalize and monitor the status of the instrument from across the lab, and is mounted on the front of the instrument for easy visibility; and
Reduction of power usage by up to 50 percent when in idle mode, compared to previous model.