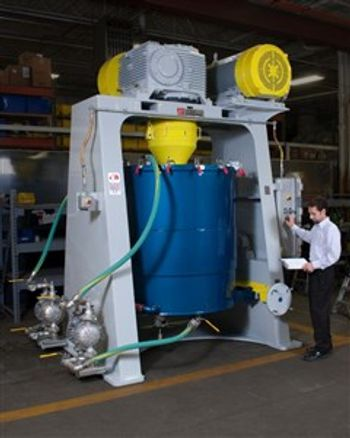 Union Process, Inc., known globally as a manufacturer of particle size reduction
and dispersing equipment as well as related services for a broad range of research and industrial applications, has manufactured and delivered another large S-400 Batch Attritor Grinding Mill.

The wet grinding Attritor was built for a customer that produces rubber-based coatings. The efficiency and high throughput of the S-400 Attritor was ideal for meeting the needs of this customer.
The tank is constructed of 304 stainless steel and is jacketed for temperature control. The stainless steel shaft has specially configured hardened tool steel L-agitator arms. The mill is powered by a 150 HP, 2-speed, high starting torque explosion-proof motor. The S-400 Attritor includes two stainless steel air diaphragm pumps which circulate the slurry during milling and facilitate discharge of the finished product.
Emery Li, Sales Manager at Union Process, noted, "For this particular application, the S-400 was able to mill a starting material of approximately ¼" in size down to a final particle size in the single digit microns."