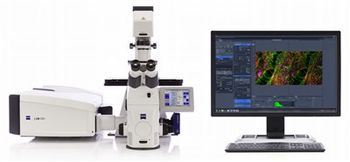 New confocal technology enables fast and sensitive superresolution microscopy


Today, ZEISS is introducing LSM 880 with Airyscan. The new confocal laser scanning microscope offers high sensitivity, enhanced resolution in x, y and z, and high image-acquisition speed in one system.

Sensitivity, Resolution, and Speed

Surveys results reveal that confocal imaging would benefit the most from increased sensitivity, resolution, and speed. Airyscan extends exactly those parameters. Users achieve a 1.7× higher resolution in all spatial dimensions, 140 nm laterally and 400 nm axially. The improved sensitivity leads to better image quality and increased speed. The whole imaging process is possible with standard sample preparation and labeling protocols.

The Airyscan Principle

A classic confocal microscope illuminates one spot on the sample to detect the emitted fluorescence signal. Out-of-focus emission light is rejected at a pinhole, the size of which determines how much of the Airy disk reaches the detector. Users can increase the resolution by making the pinhole smaller, but the signal-to-noise ratio drops significantly, since less valuable emission light is passing through. With Airyscan, ZEISS introduces a new concept. Instead of detecting signals with a single point detector, a multichannel area detector with 32 elements collects all the light from an Airy disk simultaneously. Hereby, each detector element functions as a single, very small pinhole. Knowing the beam path and the spatial distribution of each Airy disk enables very light-efficient imaging: researchers can now use all of the photons that the objective collected.

Quantitative Imaging and Improved Productivity

LSM 880 lets the user take full advantage of large fields of view and the highest speed of any linear scanning confocal microscope at an unsurpassed image quality. Designed for optimized productivity, LSM 880 identifies and localizes biological molecules of interest even in the most challenging specimens. To investigate subcellular structures at a new level of detail, the system provides the speed to monitor these molecules and their interactions in space and time while minimizing the input of light.