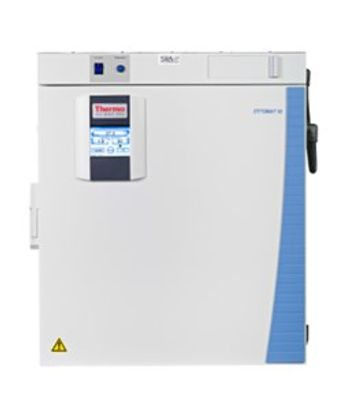 Cell biology and screening scientists and technicians can now be free to monitor and control their automated incubators from virtually any location outside the laboratory where Wi-Fi internet access is available.
The Thermo Scientific Cymon remote monitoring application essentially replicates the Next Generation Display of the Thermo Scientific Cytomat 10 Automated Incubator on a Samsung 10.1-in. touch screen tablet, which can be operated remotely. The Cymon application is available as an option for the Cytomat 10 incubator, which includes the application, a tablet and a wireless router.
Cymon is making its debut at SLAS2015, the 4th Annual Conference & Exhibition of the Society for Laboratory Automation and Screening, booth 423 at the Washington Convention Center in Washington, D.C.
"Performance and reliability of equipment are one aspect of successful lab operation," said Dieter Wagner, product manager Cytomat, Thermo Fisher Scientific. "Data monitoring is another critical process, and Cymon is an example of how we're constantly seeking ways to improve the lab experience along with performance and efficiency."
The Cytomat 10 is a fully-automated incubator and storage module for high-capacity cell growth and assay incubation. It is designed to access plates in less than 10 seconds, and is equipped with a fully automated decontamination routine. It is the first incubator to feature the company's Next Generation Display, which uses icons to help users monitor and control process set points, temperature, humidity, CO2, O2 and logging of up to 1,000 data sets with selectable increments.