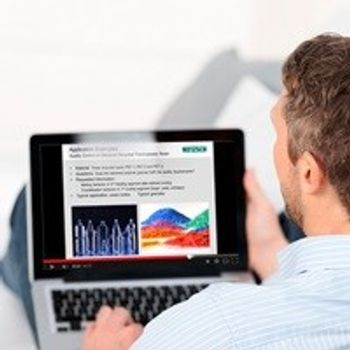 Webinar: Fast and precise results for polymer characterization by means of high heating and cooling rates with DSC - Feb 24th 2015

The method of differential scanning calorimetry (DSC) is widely used in the field of thermal analysis for plastics. It offers a means for determining the glass transition and melting and crystallization temperatures along with the corresponding enthalpies. For this reason, it is often used in materials development, quality assurance and failure analysis. This webinar first presents some basics of DSC methodology and then delves into ways of generating fast and precise results by employing state-of-the-art DSC instruments with high heating and cooling rates. Click here



Webinar: How Methods of Thermal Analysis Support the Development, Production and Quality Assurance of Composites - March 3rd 2015

Energy efficiency and the associated lightweight construction techniques are the driving forces behind the increased use of glass- and carbon fiber-reinforced plastics in aerospace, the automotive industry and the sports motors sector. Due to their high specific stiffness and stability, they offer attractive lightweight potential. Both thermoplastic and thermosetting matrix systems are employed, whereby the combination of C fibers with highly cross-linked epoxy resins is especially widely used.

Presented in this lecture are the possibilities offered by modern thermal analysis methods for CFRP in the fields of materials development, production of composites and characterization of molds. The objective is to understand the properties of these complex materials on the one hand and to be able to guarantee the quality of the composite parts on the other.

Methods such as differential scanning calorimetry (DSC), thermokinetic modeling, thermogravimetry (TGA), dynamic mechanical analysis (DMA), dielectric analysis (DEA), thermomechanical analysis (TMA) and light flash analysis (LFA) along with their application possibilities will be introduced with the example of the CFRP process chain. Click here



Webinar: Characterization of Food by Means of Thermal Analysis - March 24th 2015

The most commonly used methods of thermal analysis like thermogravimetry (TGA) and differential scanning calorimetry (DSC) are not only employed in fields such as polymer and pharmaceutical analysis but are also ideally suited for the characterization of food.
The possibilities for thermoanalytical characterization of food will be presented in this webinar on examples such as oils, fats, gummy bears and chocolate. Click here



Webinar: Thermal Analysis on Cosmetics - March 31 2015

Cosmetics are widely used in everyday life. While men use mostly just basic body care products, women additionally apply decorative cosmetics such as lip stick, eye shadow or nail polish.
Thermal analysis methods are ideally suited for characterizing cosmetic raw materials and provide valuable input for the development and quality control of cosmetic products – for example, in studies to determine how easily a certain lip stick can be applied.
The main methods used in the thermoanalytical characterization of cosmetics will be presented in this webinar, which provides an overview of application possibilities based on selected application examples. Click here



Webinar: Characterization of photo-curing polymers using comprehensive thermoanalytical methods - April 9th 2015

In complement to the classical cross-linking polymers which cure thermally, light- and photo-curing polymers are becoming increasingly important in the fields of adhesives, paints and coatings. To examine such curing reactions, controlled lighting is applied as an add-on to established thermoanalytical methods. The resulting techniques include photo differential scanning calorimetry (Photo-DSC), photo dielectric analysis (Photo-DEA) and photo dynamic mechanical analysis (Photo-DMA). This webinar explains the basics of cross-linking by means of photo-curing, introduces the appropriate thermoanalytical instruments and illustrates numerous application possibilities using selected examples. Click here