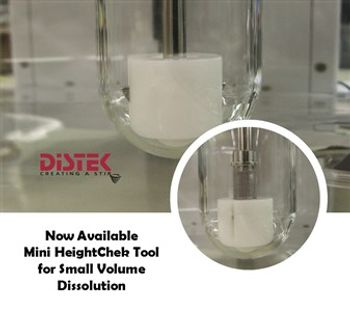 Distek, Inc., an industry leader in pharmaceutical laboratory testing instruments, accessories and validation services, is excited to release the much anticipated Mini HeightChek Tool for Small Volume Dissolution.

The Mini HeightChek Tool by Distek is a fixed 10mm gauge that accurately sets the paddle or basket heights prior to using the Distek small volume dissolution accessory.

"As we've see an increase in utilization of small volume (<200 ml) dissolution testing in the marketplace we are pleased to be able to provide our customers with a quick and simple tool for setting the operating heights," says Jeff Seely, Vice President of Sales & Business Development, Distek, Inc.