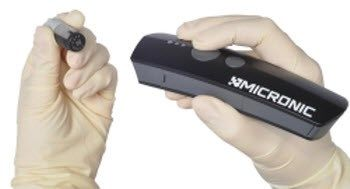 The new Micronic Handheld Wireless Scanner MINI enables users to reliably read1D and 2D tube and rack codes almost instantly.

Measuring just 135 x 41 x 30mm and weighing only 80g, this small lightweight device is practical to carry around, easy-to-use and can read any 1D barcode or 2D Data-Matrix code on 24-, 48- and 96-well format tubes and racks. Due to its compact size and wireless operation - the Handheld Wireless Scanner MINI offers convenient, high performance scanning anywhere where you might need it.

Users can now wirelessly read barcodes from Micronic or other brands of tubes and ANSI / SLAS* format compatible racks anywhere in their lab or in the field. A high capacity lithium polymer battery provides a long lasting minimum of 15,000 2D scans or approximately 17,000 ID scans per charge. Easy to recharge through a USB connection the battery will provide approximately 10-12 hours of continuous use.

In addition to its read code capabilities the Micronic Handheld Wireless Scanner MINI output can be personalised with date, time, user, project name and other useful data. Bluetooth enabled for iOS, Android and Windows compatibility the Micronic Handheld Wireless Scanner output can be read directly into a LIMS system, PC EXCEL spreadsheet or Notepad.