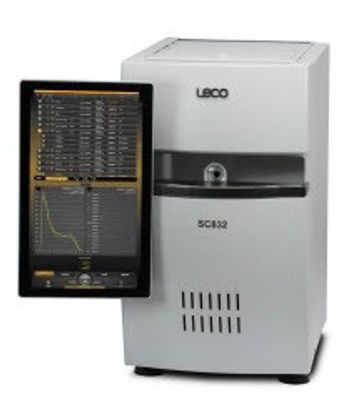 LECO is pleased to introduce the new 832 series, which will redefine the way you determine sulfur and carbon in a wide variety of organic materials. Using extensive customer feedback and innovative engineering, our latest instrumentation takes advantage of an on-board software platform powered by a touch-screen interface, increasing usability and operational control without using valuable bench space. A high-efficiency combustion furnace, improved IR cell design, and a robust, rugged design make the 832 a valuable resource for any laboratory needing fast and accurate analysis of sulfur and/or carbon in organic materials.

The 832 uses LECO's exclusive Cornerstone® brand software, which enables complete access to analysis control, method settings, diagnostics, reporting, and more in a highly organized, intuitive, and immersive environment. The Cornerstone Mobile option provides access to data, plots, and instrument status from the user's smartphone, tablet, or desktop computer.

Highlights of the 832 include a high-efficiency furnace system design which is composed of a ceramic horizontal high-temperature furnace with intelligent control that optimizes furnace reliability, and a ceramic lance that directs oxygen onto the sample to ensure rapid analysis times and complete combustion. An improved solid-state IR cell design with temperature stabilized construction provides increased isolation from temperature fluctuations. Optimized emitter control and detection circuitry improves cell lifetime and long-term stability. Design and accessibility for maintenance areas has also been improved to enhance safety and convenience.

The 832 series is available in several configurations to meet the needs of a wide variety of applications. Models include the S832 for sulfur, S832DR for dual range sulfur, C832 for carbon, SC832 for both sulfur and carbon, and the SC832DR dual range sulfur with carbon determinator. The Performance package adds an instrument leak check feature and electronic back pressure control.