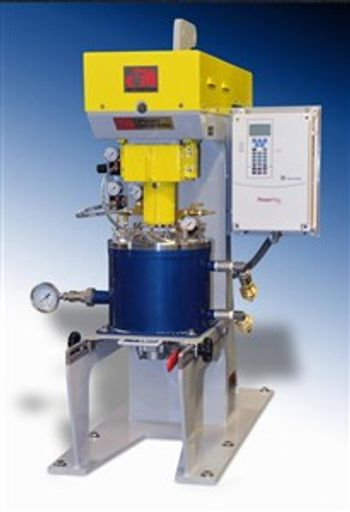 Union Process, Inc., known globally as a manufacturer of particle size reduction and dispersion equipment as well as related services for a broad range of research and industrial applications, has manufactured a special edition S1 Laboratory Attritor for a research facility.
The application required that the mill be designed with a shaft seal for grinding under inert gas. The specially designed mill includes a temperature probe to measure the temperature in the grinding chamber. The customer required a tungsten carbide-faced tank with tungsten carbide-sleeved agitator arms for this specific application.
The mill came equipped with a 5 horsepower variable frequency drive to allow for the variance of the shaft RPMs for experimental purposes. The mill also includes a bar grid and ball valve so one can discharge the slurry while leaving the media behind. Special discharge vessels are available in case one needs to discharge the slurry under inert atmosphere.
Since 1946, Union Process has been developing and building custom Attritors for customers with a wide variety of applications all around the world.
Union Process is the inventor and developer of Attritor technology and manufacturers wet and dry grinding mills as well as horizontal bead mills.
Attritor is a registered trademark of Union Process, Inc.