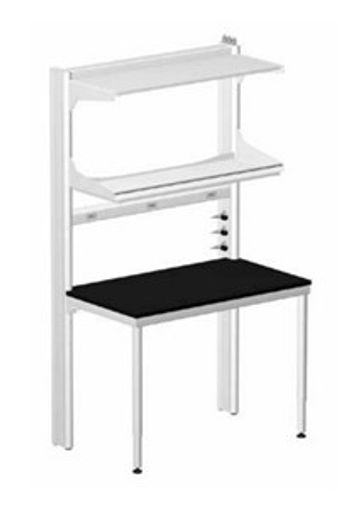 The Gemini System, part of the Solution Series, offers flexibility, stability and quality perfect for renovations and evolving laboratory demands.

This month Air Master Systems introduces the release of the Gemini System, part of the Solution Series of laboratory furniture. The Gemini System is an adaptable workbench with built-in functionality and unlimited flexibility. The Gemini System can be configured in a multitude of ways as stationary or freestanding making it an excellent choice for renovations. And its adaptability provides long-term flexibility for labs with a high tenant turnaround.

"We saw a need in the renovation projects we were handling for a systems workbench that could evolve with the needs of the laboratory," Said Darryl Coenen, sales manager for Air Master Systems. "The Gemini System is extremely adaptable and mobile. If the company were to ever move this system can easily be taken with you or reconfigured to suit a new renter."

The Gemini workbench has a sleek newer design. The single and double sided benches are stylish and reconfigurable. Air Master System manufactures each workbench in house using precision laser cutting for tight tolerances and exact measures. Stability and sturdiness are top priorities for AMS as well. Their full width shelves are constructed with a seismic retainer that prevents flexing and bowing. All Gemini workbench products come with a five-year warranty, which is four years longer than most products in the industry.

"We manufacture for the end user," said Coenen. "Our products make sense today and ten years down the road. We are making it easy to change out parts and services to suit different needs and enhance the longevity of our customers labs."

The built-in functionality of the Gemini System workbench includes an electrical raceway, service valves, data outlets and pre-plumbed PVC tubing. These built-in utilities create a space-saving, compact and efficient workspace for many types of lab work in many different industries. The shelving is full width, available in 12" or 16" depths and adjustable in 1" increments. Optional cabinets can be ordered separately. This system can be used with mobile or floor mounted casework. Adding to the functionality is the ability to configure this workbench in single-sided or double-sided configurations.

In renovation projects it's most efficient and cost effective to use as much of the existing equipment as possible. The flexibility of the Gemini System allows it to fit into many different existing configurations. As an island or as a wall fixture it can fit where the overall design needs it to go. It's available in 48", 60" and 72" widths to fit where needed. Air Master Systems delivers an amazing six-week lead-time on all their products, as well. Contact Air Master Systems or visit their website for more information about the Gemini System workbench.