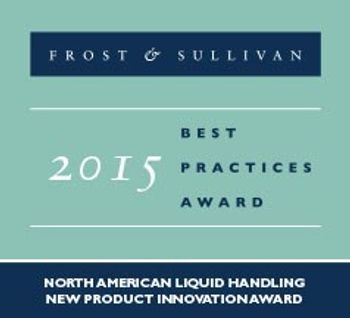 "Frost & Sullivan independent analysis of the Liquid handling market confirms that Eppendorf's superior portfolio is truly cutting-edge, high-value products designed with customer needs in mind. What differentiates Eppendorf is its ability to continually launch smart product advancements in a relatively mature marketplace. The company is always innovating, fastidious in its design, and proactive in matching new products to emerging needs. Frost & Sullivan's competitive analysis reveals that Eppendorf has earned a stellar brand reputation and a loyal customer following in the liquid handling market. For its commitment to innovation and delivering customer-focused products to meet the ranging needs of its industry, Frost & Sullivan is pleased to present the 2015 New Product Innovation Award for Liquid Handling to Eppendorf."
Liquid handling is a core process in nearly every life science laboratory. Eppendorf has made this a focus with their reliable instruments and consumables which are indispensable in today's laboratory.
In its analysis Frost and Sullivan cited several key factors recognizing Eppendorf's achievements:
"Eppendorf's relentless pursuit of innovation leading to trailblazing liquid handling products has earned the company the Frost & Sullivan New Product Innovation Leadership Award for the Liquid Handling Market."
"Eppendorf, a forward-thinking company, continues to drive new design features and find unmet needs to fulfill. This drive to relentlessly improve its products and provide customers with a variety of options customized to their applications has resulted in the development of a broad and stellar portfolio of pipettes and liquid handling workstations."

"Frost & Sullivan's research shows that one of the main differentiators of the company's pipettes is its focus on ergonomic features. Recognizing the need to reduce hand strain caused by manual pipetting for long periods of time, Eppendorf set out to design ergonomically-minded pipettes."
"Overall, Eppendorf is unmatched in its commitment to innovation, ability to match unmet needs, and fastidious approach to design when it comes to pipettes."
Whether in safety, ease of use, documentation requirement, or purity, Eppendorf sets industry standards in liquid handling and offers comprehensive systems that make workflows in laboratories more efficient and noticeably ease the burden of routine tasks.