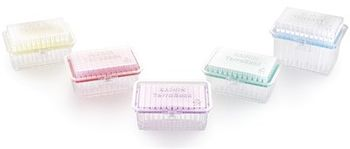 The Rainin TerraRack is a new environmentally friendly tip rack solution. This new tip rack concept allows companies and research institutes to significantly reduce their waste footprint from pipetting and achieve green goals easier, without compromising on functionality.

TerraRack is an innovative way to reduce the amount of plastic waste caused by used tip racks. These new racks are largely composed of PETE (polyethylene terephthalate), a form of polyester that is not only strong but easily recovered from the waste stream and recycled. It is widely used for the production of water and soft-drink bottles.
Adaptable to your preferences
Each single-use, disposable rack is half the weight of a conventional rack, which can significantly reduce the cost of disposal. When empty, TerraRacks are also easily compressed, and take up less space in waste and storage containers.
Complementing TerraRack is TerraBase, made from a polycarbonate with silicon feet that is autoclavable, chemical resistant and will give years of service.
TerraRack is the latest in a long line of innovative eco-advancements by Rainin. We're always looking for ways to reduce our carbon footprint, while still providing customers with industry leading pipettes and tips. TerraBase is a great option for researchers who prefer the feel of a heavier conventional tip rack.
Well thought-out design, efficient tip disposal
TerraRacks are not only eco-friendly, but come with several handy features. For example, the hinged design allows the lid to open fully and effortlessly to easily accommodate both single and multichannel pipettes. TerraRacks come individually sealed and have a front latch to secure the lid between uses and protect tips from damage or exposure. Although TerraRacks are not autoclavable, they come pre-sterilized.
TerraRacks are available for both LTS and Universal pipettes and they come in a variety of tip capacities