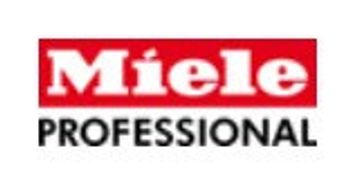 Streamlining capital equipment planning for healthcare organizations

Miele Professional, the commercial products division of Miele Inc., announced that it has joined forces with Attainia, the world's most widely used highly customized equipment planning, budgeting and tracking software. Now healthcare planners, architects and facilities managers have easy access to Miele Professional products including:
Medical washer-disinfectors
Dental instrument washer
Undercounter glassware washers
Large thermal disinfection laundry systems
Compact, stackable thermal disinfection laundry systems
"Miele offers specialized commercial cleaning systems that fit a specific need within the healthcare industry. Providing information and educational resources to the healthcare design community early is crucial," stated Deborah Ruriani, Project and Construction Business Manager at Miele Professional. Ruriani says this is part of Miele's ongoing strategy to collaborate with architects, medical planners, and owners at the early stages of project planning.

According to Ruriani, recent concerns with healthcare-associated infections (HAI) have led to more inquiries for Miele products. "For example, we have an increased interest in our laundry systems because they have internal heaters and provide thermal disinfection as well as specialized drums for fabric care. Hospitals are moving microfiber reprocessing in house to ensure cleanliness and save on costs. The NICUs are another area where specialized laundry, as well as commercial dishwashers for bottle washing, is often specified," Ruriani said.

Now planners can add these unique solutions at the budgeting stage through Attainia's capital equipment planning system. Starting this month, Miele Professional products, pricing, CSI 3 part specifications, as well CAD and BIM models, will all be available within the Attainia site. "We will have links to our current AIA CEU approved course for healthcare design as well as videos on our product line," Ruriani concluded.