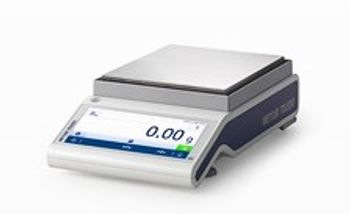 METTLER TOLEDO is pleased to announce the launch of its MS-TS wide-touchscreen analytical and precision balances. Operable bare-handed or through cotton, rubber or silicon gloves, these daily-use balances provide accuracy, ease-of-use, and traceability. The weighing-in guide helps users dose within the defined tolerances. Built-in applications steer users through weighing tasks to reduce the risk of human-error. In combination with the green/red results screen, which clearly indicates if results meet the process pass/fail criteria, daily tasks are faster and easier whilst confidence in results is increased. Standard checks and safety features provide added surety.
The MS-TS color TFT touchscreen display measures 7 inches. At 18mm high, the figures are clear for users to read, whilst the extra-large icons make the balance easy to operate. Standard features like LevelControl and automatic internal adjustment — METTLER TOLEDO's FACT—mean balances are not used under sub-optimal conditions, guaranteeing accuracy. The on-board ISO-Log records all weight relevant changes to balance settings to ensure fully traceable results. For additional security, settings can be restricted to authorized personnel only by making use of the passcode protection.
The MS-TS analytical balances particularly benefit from the MinWeigh warning function. When dosing small quantities, the figures remain red until the weight value is above the pre-programmed minimum value. A user-defined minimum weight can also be programmed into the balance to provide an additional safety factor.
MS-TS balances are robust and easy to clean. Thanks to the full metal housing the precision balances are perfect for heavier lab tasks or regular use on the factory floor. The METTLER TOLEDO MonoBloc weighing cell delivers accurate results and fast settling times, while protecting against accidental overload, even in harsh environments.
Versatile connectivity (RS232, USB and USB Host) enables to streamline lab procedures to satisfy the lean lab principles. Manufacturing consultant from Switzerland, Erwin Studer states, "Today, advanced companies run lean laboratories which are focused on delivering results in the most efficient way in terms of cost, speed and quality. Every device should support this goal." With trusted performance and easy operation, MS balances fulfill lean laboratory and manufacturing demands.