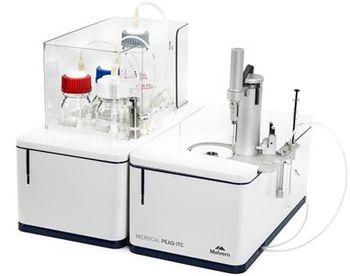 Malvern Instruments will showcase their expanding range of products for the life science and industrial sectors at ACHEMA 2015. The four-day event (15-19 June) being held in Frankfurt, Germany will be the first major European outing for the latest additions to Malvern's recently acquired MicroCal microcalorimetry range and for the innovative OMNISEC GPC/SEC platform. Visit the Malvern stand in Hall 4.1, stand number D59.

Malvern's products for life scientists provide information to drive drug discovery and development. Center stage will be the recently launched Malvern MicroCal PEAQ-ITC and PEAQ-ITC Automated systems which offer robust performance and enhanced functionality for the study of biomolecular interactions. Alongside will be the new Viscosizer TD, for automated ultra low volume particle and molecular sizing via Taylor Dispersion Analysis. OMNISEC, a fully integrated, easy-to-use, multi-detector GPC/SEC system delivers high sensitivity molecular weight, molecular weight distribution, size and structure measurements for proteins, and for natural and synthetic polymers too.

OMNISEC will be joined in the industrial section of the stand by the Mastersizer 3000, Malvern's flagship laser diffraction particle size analyzer complete with Hydro Sight, a state-of-the-art imaging accessory that makes it quicker and easier to develop, apply and troubleshoot particle sizing methods. Completing the line-up is the Morphologi G3-ID, used for the measurement of particle size, shape and chemical identity with Raman spectroscopy; the Kinexus range of rotational rheometers; and the Zetasizer Nano, for nanoparticle, colloid and protein size zeta potential measurements and molecular characterization. Malvern experts will be on hand throughout the event to explain how these complementary products work together to advance formulation and support efficient process and product development.

Malvern's Insitec laser diffraction system, which delivers online continuous particle sizing, will also be on display, on the NETZSCH stand in Hall 6.0, Stand Number B6. NETZSCH, a global manufacturer of industrial wet and dry grinding equipment is working in collaboration with Malvern to develop and apply optimized automated milling circuits. The focus of the online sizing display will be using real-time data to automate process control. NETZCH and Malvern have worked in collaboration since 2013, with NETZSCH conducting its standardization using Malvern's particle sizing and characterization equipment. This allows both companies' customers to benefit from NETZSCH's milling expertise and Malvern's particle size knowledge.